The holidays should be a time of celebration with loved ones around a beautiful table of nutritious and delicious food. Unfortunately, many classic holiday comfort foods are packed with additives, carbs, and sugar, leaving you ironically uncomfortable.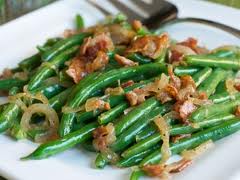 Let's take a quick look at sauces' role in giving you a food coma, bloating, indigestion and a few extra pounds.
Conventional sauces are often packed with processed fats, un-natural flavorings (e.g. MSG), and sugar. Your body struggles to process this concoction, resulting in a digestive revolt. Toss that sauce!
Try an alternative sauce free recipe that won't slow you down and is equally delicious. Or make your own sauces from scratch, using healthy ingredients.

Bacon Beans
Ingredients:
6 thick slices of hormone & anti-biotic free bacon, chopped
⅓ cup onions, minced
1 teaspoon minced garlic
1 pound green beans
1 cup water
⅛ teaspoon sea salt
1 pinch ground black pepper
Directions:
Place bacon in a large, deep skillet. Cook over medium high heat until the fat begins to render. Stir in onions and garlic; let cook for 1 minute. Stir in the green beans and water. Steam the beans until the water has evaporated and the beans are tender. Season with sea salt and pepper (to taste), add butter if desired, and serve.
Enjoy!
Related Entries