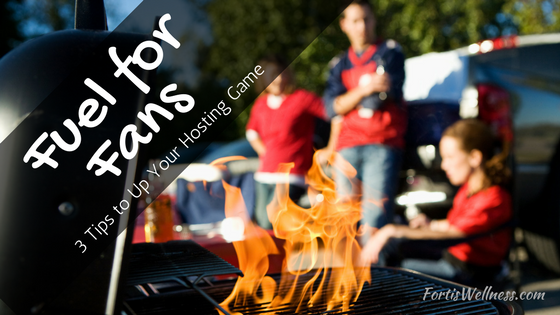 Sports spectating without certain ritualistic foods and drinks seems strange.
Baseball and a hot dog. Football and wings. The Kentucky Derby and bourbon.
I love the tradition of eating at games. As a foodie and a sports fan, I truly believe that the two passions can live in harmony. However, we need to class up those munchies.
Why? There is a downside to these favorite foods of fans. They move through your digestive system with the speed and agility of a sloth (a.k.a. constipation) or the quickness of a Usain Bolt (a.k.a. diarrhea).
Luckily, you can still enjoy event munchies without the burden of a junk food hangover or digestive distress. Try some healthy alternatives and simultaneously impress your guests at your tailgate or game watch party.

Nachos Sanos (Healthy Nachos)
Attention Nacho lovers: There is nothing healthy or natural about Cheese-wiz, heat-and-serve dips or most packaged chip dips. These dipping concoctions typically contain processed fats, preservatives, chemicals, and unhealthy additives, hence the unpleasant feeling in your stomach as you leave the party. Here's a delicious alternative that takes 15 minutes to prepare (unless you choose to do lots of extra chopping for more toppings).
Preheat the oven to 375
Bean dip (to be put on top of the chips or kept on the side for dunking)

1 can re-fried beans (Trader Joe's organic, canned)
1/2 block cream cheese (4 oz., organic is good, raw is best)
1/2-2/3 cup salsa (whatever you like; I use Costco's Kirkland Organic Medium Salsa)
Mix the above over low heat in a small pot

Line an edged baking pan (the biggest one you have) with parchment paper
Fill the pan full of tortilla chips (preferably cooked without canola, soy, or vegetable oils)
Put shredded cheddar (I use Trader Joe's raw milk cheddar) over the chips
Add your favorite ingredients: chopped tomatoes, onions, peppers, jalapenos, drops of hot sauce, olives, black beans, more salsa, shredded chicken, etc.
Add the bean dip
Stick the whole thing in the oven for 5 min. or so until the cheese bubbles and is "nacho-y"
Add cold/warm temp toppings like sour cream, guacamole (or just smash a fresh avocado), or lettuce
Diet modifications–It's already wheat/gluten free if your chips are 100% corn. It's easy to do this dairy free–just remove all the cheese/cream parts and it still tastes amazing! If you want more protein, pile on the beans and add chicken.

Rubbed Wings & Sticks
Oftentimes prepared sauces & marinades have high fructose corn syrup, flavor enhancers & tenderizers (like MSG), preservatives, more sugar, bad salts, and bad oils. Luckily, wings can be healthy and delicious. Look for a sauce in the refrigerated section to avoid preservatives or try local bbq sauces with fewer strange ingredients. However, if you're feeling adventurous and would like to hear complements on your amazing homemade wing sauce, stick to this healthy rub recipe. You may want to double the recipe, depending on the size of your guest list and their appetites.
2 Tablespoons melted butter (Yes, butter is healthier than margarine, which contains processed, unhealthy fats.)
3 cloves garlic pressed
2 teaspoons chili powder [add more chili or add some cayenne pepper if you like it to be spicy!
1 teaspoon garlic powder
Sea salt (which contains healthy minerals vs. the nutrient void table salt) & pepper to taste
10 chicken wings/drumsticks
Put all of it in a large plastic bag and shake to coat
375 for 1 hour

Chips & Herb Dip
This is so easy and addictively delicious. It ends up tasting similar to ranch dressing except it is way better for you.
8oz. cream cheese (pre-whipped is easy, organic is good, raw is best)
1 t. rosemary (I crush mine up a little first)
1/s t. thyme
1/4 t. garlic powder
1/4 t. freshly ground pepper
Mix it all with the cream cheese and serve OR refrigerate for up to a day or so
for an even better taste.
Serve with raw veggies or rice crackers
Leftover ideas: IF you have any dip leftover (and that's a big "if"), here are some ideas:

eat it sneakily before anyone else discovers it
put it in an omelet (it sounds weird but it works)
put it on a sandwich as a delicious spread with leftover meat or deli meat
put it on a slice of whole grain sprouted bread (try Ezekiel) with a fried egg on top
put it on salmon and warm it up

Other ideas:
Homemade chili
Homemade meatballs with a good-quality bbq sauce in a crock-pot
Popcorn (make it the old school way on the stove or in a popper and add your own butter and sea salt)
Potato skins with real bacon and cheese and onions on top–DON'T use bacon bits, esp. the unnaturally red, hard ones–words can't express how sad it is that someone invented such a culinary travesty
Cold veggies & hummus or a homemade dip. You could use that cream cheese herb recipe above but replace the cream cheese with sour cream!
Quesadillas from scratch
What are others can you think of to try? Share your idea in the comment section.
Related Entries